Katie
Practice Manager
Katie grew up locally attending high school in Blackduck. She graduated from Ridgewater Technical College with an Associates Degree in Veterinary Technology in 2006. Over her 13 year career, Katie worked as a Veterinary Technician as well as several aspects of clinic management. She lives in Bemidji with her new husband Ethan; canine kids Jay, Marty, and Ella Mae; and feline housemate Oprah. Her hobbies include hunting, fishing, and traveling.
Brittni
 Veterinary Technician
Brittni grew up and graduated high school in Eden Prairie, MN. She has a bachelors degree in Biology from St. Cloud State University where she also played Women's hockey for the St. Cloud State Huskies. She received a degree in Veterinary Technology from Globe University in 2011. Brittni also has a special interest and passion for dog behavior. She and her husband moved to Bemidji in 2015. They live with their 2 daughters on acreage where they have a Greyhound, Colt, 2 cats, Ollie and Wilber, 2 ponies, and many chickens. When she is not working her hobbies include lake activities, gardening, photography, and taking care of her various animals.
Stefanie
Certified Veterinary Technician
Stefanie was born and raised in Baudette, MN.  After two years of college at Northland Community and Technical College in Thief River Falls, she moved to Coon Rapids, MN.  There she pursued a degree in Veterinary Technology at Minnesota School of Business.  In June of 2006, she took her Minnesota and National veterinary technician certification board exams and also graduated with an A.A.S. in Veterinary Technology.  Stefanie moved to Bemidji in 2006 and has worked in the veterinary field since making Bemidji her home.  Stefanie lives north of Bemidji with her husband Chad, 2 daughters, dog Walter, cats ZZ and Arthur and chickens.  When she isn't working at Northern Veterinary Clinic, she is busy trying to keep up with her daughters and their many sports and activities.  She also enjoys spending time with family and friends, eating great food and reading.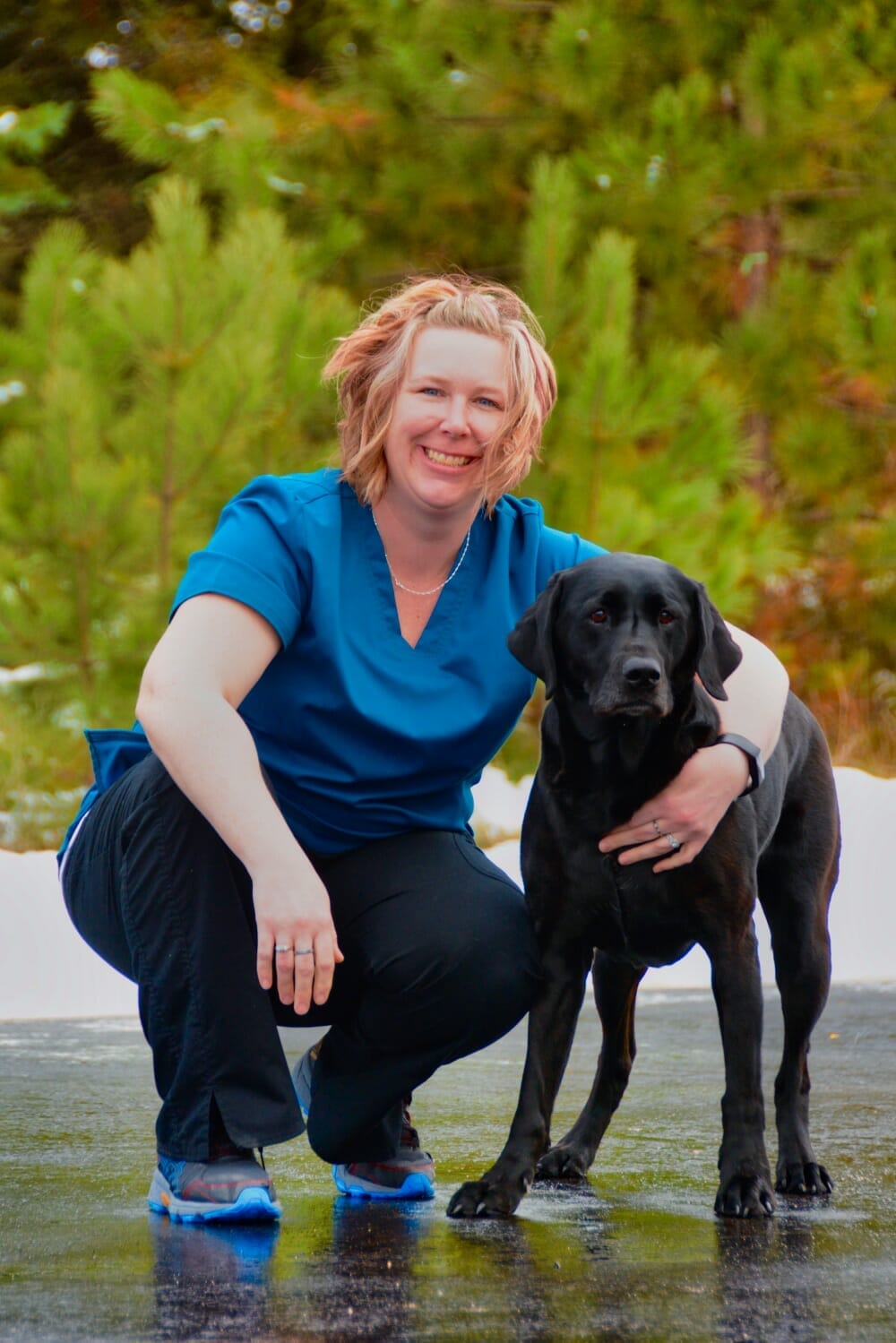 Hailey
Certified Veterinary Technician
Hailey grew up in International Falls and attended Minnesota School of Business in St. Cloud where she graduated with an Associates degree in Veterinary Technology in 2009. She is passionate about canine massage and dental health. She lives with her husband and fur kids Arcadius, Cream and newest addition Oscar. In her spare time she enjoys wood working, painting and sewing.
Anne
Receptionist
Anne moved to Bemidji in 2006 after 25 years as a licensed home daycare provider in the Chaska/Chanhassen area of the Twin Cities.  She and her husband, Charlie, also provided a home to 15 foreign exchange students from Europe and South America.  They have 6 adult children, and 11 grandchildren .  Anne has worked in the veterinary field as a receiptiionist for 12+ years.  She has 3 dogs, 5 cats, 4 horses and 8 chickens.  In her spare time, she enjoys spending time with her family at the cabin, camping , riding her horse and reading.
Autumn
Vet Assistant
Autumn, was born & raised in Bemidji, Minnesota, graduating from BHS in 2017. She's always loved animals & knew she needed to pursue her passion with furry friends. Starting out as a Kennel Assistant, she worked her way up to a Veterinary Assistant. Along with prior training & experience, she's now taking college classes & interning to become a Veterinary Technician with an Associate's Degree. Her fur kids are her sweet pitbull, Momo, along with her family's farm: 3 horses, 3 other dogs, & 2 cats. While her boyfriend serves in the USMC, Autumn is also a 2nd Degree Black Belt in Tae Kwon Do. She may be little, but she's "small & mighty." Hobbies include: Art, photography, TKD, & horseback riding. 
Stay PAWsitive!
Angelique
Vet Assistant and Receptionist
Angelique grew up in Wisconsin but has lived in the Bemidji area for most of her life. She has an AAS in Veterinary Technology from the University of Minnesota, Waseca, and a BS in Animal Science from the University of Wisconsin, River Falls. After college, Angelique worked as a vet tech at small animal practices until becoming a stay-at-home mom of four kids. Once they got older, she worked various jobs before finding her way back to veterinary medicine. Angelique is a self-proclaimed Crazy Cat Lady who enjoys drinking coffee, watching movies, and going to renaissance festivals. She lives with her cats, two tortoises, a ball python, and chickens.
Maiah
Vet Assistant and Receptionist
Maiah was born and raised in Baxter and graduated from Brainerd High School in 2019. With an interest in veterinary medicine, she received her Bachelor's Degree in Animal Science at North Dakota State University and has applied to veterinary schools in the Midwest. She is most passionate about equine medicine, but also enjoys working with small animals. In her spare time, she enjoys horseback riding, spending time with family, and baking. At home she has 2 horses, Charger & Ivan, and a cat named Potato.